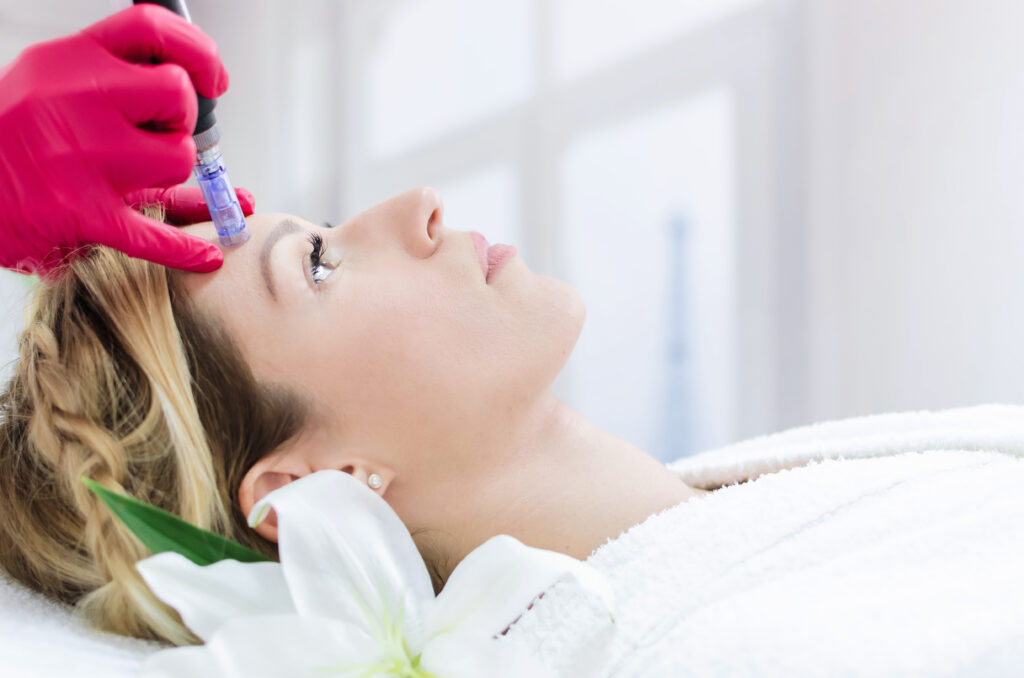 Microneedling is a minimally invasive cosmetic procedure that is used to treat skin by stimulating collagen production.
What Conditions Does Micro-Needling Treat?
This treatment is highly effective at reducing fine lines and wrinkles. Micro Needling does wonders to help tighten skin and improve texture. Helps reduce the depth of acne scars, especially when received in a series of 10. Stimulates dull skin by improving circulation and renewing radiance. Helps to break up and remove stubborn hyper-pigmentation issues such as melaWho Cannot Be Treated With Micro-needling?sma . It is also very helpful in breaking up and lessening the appearance of stretch marks.
Who Can Be Treated with Micro-needling?
Every skin type can benefit from the Micro Needling treatment. Micro Needling yields amazing results when treating those with mild to moderate skin laxity and/or acne scarring as well as those with dark spots and sun. Micro Needling is perfect for those want great results, but do not wish to experience the downtime which is frequently associated with deeper laser resurfacing treatments.
Who Cannot Be Treated With Micro-needling?
Though most people can be treated very successfully with Micro Needling, there are those who have pre-existing conditions which keep them from being candidates for this service. The following issues are contraindicated for the Micro Needling Procedure: Hemophilia, Skin diseases, Eczema, Allergies, Autoimmune diseases, History of cold sores. History of any Cancer, tendency to keloid.
Is Micro Needling Painful?
No, because I will be applying a medical grade numbing cream to your skin which will remove all sensation.
How Long Does A Micro Needling Treatment Take?
The micro needling pen moves quickly across the skin, and will feel somewhat prickly, but not very uncomfortable due to the numbing cream. Numbing time is about 30 minutes, and the Micro Needling process itself usually takes about 15-30 minutes, depending on skin thickness and target issues. The average total treatment time for Micro Needling is about one hour.
Is There Downtime After Micro Needling?
Healing time is minimal usually between 1-3 days. Most commonly patients will experience some redness afterward that resembles a sunburn which usually dissipate within 24 hours. It is recommended that you stay away from the sun and avoid strenuous exercise for 2 weeks following treatment.
What Kind of Results Should I Expect from Micro Needling?
Keep in mind that dermal collagen remodeling occurs over time and it would unrealistic to expect damage that has occurred to the skin over a long period of time, disappear right away. A series of 3-6 monthly appointments is typically required to achieve the best results based on the severity of the skin condition.
Although results vary from person to person, most will experience a decided improvement in tone and texture of the skin. Fine lines and wrinkles soften dramatically, and scarring becomes significantly less noticeable. Micro Needling has gained a strong reputation for rejuvenating sluggish, dull skin. Skin becomes noticeable tighter and smoother after even one treatment.
How Many Treatments of Micro Needling Will I Need?
The number of Micro Needling treatments required for amazing results depends on what condition the skin is in when treatments begin. Most find that a series of 6 or possibly 10 are needed to see truly dramatic changes in the complexion. Most who are hoping to tighten and tone their skin will be on track with 6 treatments. Those who are seeking to diminish the depth of acne scarring generally require a minimum of 8-10 sessions.